"Renaissance of the Clan MacLean"
by
J. P. MacLean
Click Here To Order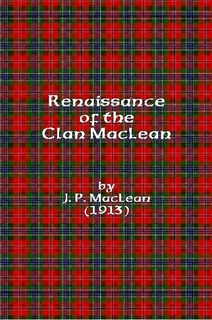 Clan Maclean Atlantic is pleased to announce that a reprint of the book "Renaissance of the Clan MacLean" by J. P. MacLean is now available.
This 208 page book was originally published in 1913, and contains many photos and drawings. The subject sections are:
Renaissance of the Clan
Dubhaird Caisteal (Duart Castle)
Gathering of the Clan
General Allan MacLean
Registered Coats of Arms
Personal Narrative
MacLean Bibliography
List of Subscribers
Although the entire book is well worth reading, the sections on Dubhaird Caisteal (Duart Castle) and on the Coats of Arms are particularly interestiing.
Original copies of this book are very hard to find, but this reprint is available for only $25.00 (US)! These soft cover books are printed for Clan Maclean Atlantic by lulu.com. Lulu.com also handles the ordering and receives payment for the Association. All proceeds will go to Clan Maclean Atlantic.
You will need to create an account with lulu.com to order, but there is no additional charge to do this. Unfortunately, Lulu no longer offers Super Saver shipping.

Click Here To Order